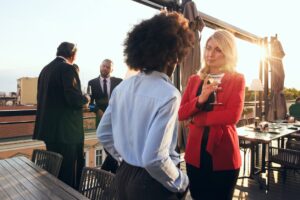 5 Ways to Beat the Heat at Summer Corporate Events
Summer is a great time of year to hold your corporate events. It's a perfect time to be outdoors, enabling you to choose a location that will provide your guests with a beautiful backdrop. In addition, the ability to hold your event outside will typically provide greater flexibility regarding the number of guests you can accommodate.
While there are may benefits to holding outdoor corporate events during the summer, you still need to be mindful of the heat. In many parts of the country, temperatures will be in the 90s or higher all summer long, potentially well into September. These scorching temperatures can not only make guests hot, sweaty, dehydrated, and uncomfortable, but they can create significant safety risks due to heat-related illness.
Make sure your event runs smoothly by providing a comfortable environment for your guests. This way, they will return home talking about everything they learned at your event instead of the sweltering conditions. The following tips will help you keep your guests safe and comfortable during your summer corporate events.
Provide Ample Shade
Setting up shade structures is one of the most important things you can do to keep your guests comfortable. Shaded areas can often feel as much as 15 degrees cooler than locations receiving direct sunlight. Over the course of an event spanning several hours, this will make a huge impact in the comfort of your guests.
Whenever possible, set up shade tents that are large enough to accommodate seating for your guests. This will not only help people stay cool in the heat, but it will also provide shelter in the event that a storm hits during your event. You can also make use of naturally occurring shade at the venue by setting up under large trees.
When looking into potential venues, ask them about their ability to provide shade tents. Can their shade tents accommodate all of the seating you need for your guests? If they aren't able to provide shade structures, will they allow you to bring your own?
Set Up Hydration Stations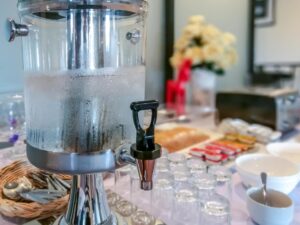 It's important to provide your guests with plenty of water. One of the main ways your body cools itself on hot days is by sweating. This can cause you to become dehydrated long before you feel thirsty.
Make sure you have a large supply of water bottles chilled and ready to distribute to your guests. Encourage all guests to stay hydrated throughout the day. These helpful reminders will not only prevent dehydration, but they can reduce the risk of heat-related illness.
Prepare Your Guests
Provide information to all guests prior to the event letting them know what to expect. This information should include:
Weather forecast so that they can plan for the elements
What to wear
Any important items to bring
What will be provided at the event (water, food, shade, etc.)
In addition, you may want to consider providing your guests with some items that will help them manage the outside conditions, such as sunglasses, sunscreen, fans, hats or insulated water bottles. You can place your company logo on these items to leverage an opportunity to reinforce your brand.
Avoid Holding Your Event During Peak Heat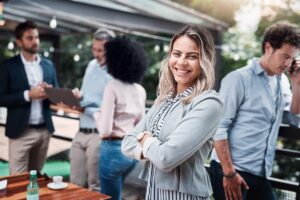 In general, temperatures tend to hit their peak between 2 pm and 5 pm. It's best to avoid holding your event during these hours since your guests are more likely to struggle under the sun during the hottest time of the day. Instead, consider a morning event before the heat spikes or an evening event after the heat breaks.
Provide a Cooling Solution
One of the most effective ways to keep your guests comfortable is to provide a cooling solution. Portable evaporative air coolers are the most effective option, as they are ideally suited for outdoor events and deliver large quantities of cool air to the space you're trying to keep comfortable.
Other potential cooling solutions include misters and fans. However, neither of these options are ideal for your corporate event. Misting systems are significantly more expensive than evaporative coolers, and the water emitted by misters can make for soggy conditions if your guests are sitting at tables. Fans do a good job at pushing around air, but they don't provide any cooling. Therefore, your guests will simply have more hot air blowing on them, and this won't improve their comfort.
Keep Guests Cool at Your Corporate Event with a Portacool
Portacool evaporative coolers are the ideal solution to keep your guests cool at your summer corporate event. As the industry leader in evaporative cooling technology since 1990, you can count on an exceptional quality product that delivers the cooling benefits you need. All Portacool evaporative coolers come with wheels, making them easy to roll around to provide cooling in the exact space where you need it. This ensures your guests remain comfortable throughout the event.
Our evaporative coolers are made in the USA at our Center, Texas manufacturing facility. In addition, our evaporative media is made by our subsidiary company, Kuul. All Kuul evaporative media use the highest quality raw materials and are made to the exact specifications of Portacool air coolers, ensuring maximum efficiency.
With a wide range of portable evaporative cooler models, you can easily find a Portacool that will address your specific needs. You can use our online tool to find out which Portacool model may be right for you.
If you're looking to keep your guests comfortable at your summer corporate event, Portacool is here to help. Please visit a local retailer or contact us today for large orders or additional information.