Advantages of Air Coolers Over AC
Air coolers are often a better cooling choice than AC. You might choose an air cooler if you:
Need to cool a large and/or open space
Want to cool efficiently
Are in a dry climate
Want cooling without installation
Desire cost-effective cooling
An air cooler is a great choice for large areas. A standing air cooler can produce a lot of cool air, letting you cool down large spaces quickly. It doesn't matter if you can't trap the air you're cooling – it's still an effective cooling solution, even if you're outside.
Air coolers are also highly efficient with power usage. An air cooler uses less than ¼ the power that air conditioning uses.
Air coolers work best in dry climates. In dry, hot areas, an air cooler can dramatically drop the temperature, making it cool and comfortable.
With air coolers you just simply plug them in; no professional installation is necessary. In some cases, you might attach the air cooler to a water supply for convenience, but this isn't required. With even a portable AC unit, you not only have to plug the unit in, but you have to find some way to create a hot air outlet. Otherwise, the hot air that the AC unit produces will simply accumulate in the same space as the cooled air, reducing the cooling effect.
Along with low energy usage, air coolers can be inexpensive to run. Even a relatively large Portacool air cooler can run all day for less than $1 in energy and water.
Advantages of AC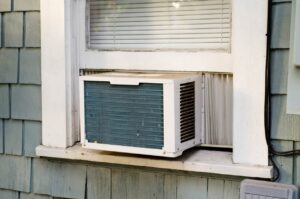 On the other hand, you might choose an AC unit if you:
Are cooling a small, confined area
Need to achieve low temperatures
Want to remove humidity from the air
AC works best when you can trap and concentrate the air from an AC unit. AC units turn over relatively small amounts of cooled air. If you aren't trapping that air, you're losing much of the benefit of AC.
When you trap air from AC and cool it repeatedly, AC has the ability to drop the temperature much lower than an air cooler. If you need the temperature very low, then AC might be your best choice.
Finally, AC lets you remove humidity from the air. If you want or need the air to be dry, then AC is your best cooling choice.