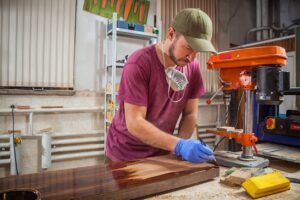 Best Holiday Gift for a DIY Enthusiast Who Has Everything
The holiday season is here, and it's time to start thinking about gifts to get your loved ones. Some people are pretty easy to shop for, while others present quite the conundrum. If you're shopping for a DIY enthusiast, it's likely they already seemingly have everything they need. After all, DIYers are serious gearheads, and they have the skills to build just about anything. These people are notoriously hard to shop for.
How can you get your DIY enthusiast an amazing, thoughtful gift that they probably don't have and that will also make their upcoming projects more enjoyable? You just might have to think outside the box and find something that requires a little delayed gratification.
Hot Workshops Can Be Miserable
While dealing with extreme heat isn't top of mind as we ease into winter, hot weather will return before you know it. Your DIY enthusiast has most likely made you acutely aware of how miserable it can be in the home workshop during the summer months. Between the sweltering outside temperatures, poor insulation in the workshop and heat generated from machinery, these spaces are often unbearably hot all summer.
Spending long hours in these uncomfortable conditions makes it extremely hard for your DIY enthusiast loved one to enjoy their passion. A cooling solution is crucial if your loved one wants to stay comfortable while working on building projects in the summer. If you're struggling to find an ideal gift, this cooling solution may be the perfect option.
Evaporative Coolers Are a Great Gift to Keep the Workshop Cool in the Summer Heat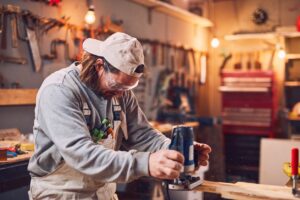 You may be thinking that installing air conditioning in the home workshop is a bit more than you had budgeted for a holiday gift. That's OK, because air conditioning is actually a poor cooling solution for home workshops:
To work effectively, air conditioning requires a closed environment and home workshops typically have doors and windows open to provide much needed fresh air
Dust particles accumulate quickly in workshops, and this can wreak havoc on air conditioning units
Air conditioning consumes a lot of energy, making it a less than ideal solution in an area of the house that is typically already maxing out electrical capacity to run the energy intensive machines found in a workshop
While fans are more likely in your holiday gift price range, they also provide a poor cooling solution to keep a home workshop comfortable during the peak heat. Fans provide much needed air circulation, but no actual cooling. So using a fan in a home workshop is really just pushing around the hot air, and this won't improve your loved one's comfort.
Fortunately, there's another option that provides effective cooling for home workshops and can fit into a typical holiday gift budget – evaporative coolers. Evaporative coolers harness the process of evaporation to dramatically cool the air in your home workshop. Hot air passes over water-soaked cooling pads, called evaporative media, causing the water to evaporate. A significant amount of energy is released during the evaporation process, dropping the air temperature by as much as 30°F.
Evaporative coolers are ideally suited to deliver the effective cooling your loved one needs in their workshop:
They require access to outdoor air to function at peak levels, making them an excellent option for workshops that need to keep doors and windows open for proper air circulation
They run on minimal energy, preventing an overload on your electrical system when being run at the same time as workshop machinery consuming large quantities of electricity
They don't add moisture to the air, eliminating the risk of mold or corrosion which may damage workshop machines
They can easily be moved around your workshop to provide cooling in the specific area where you are working at all times
Put Your Workshop Evaporative Cooler to Use on Your Patio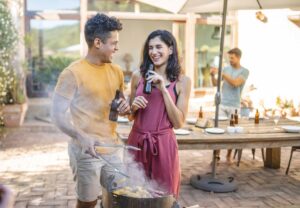 When your loved one isn't using the evaporative cooler in the workshop, it can be put to use in other parts of your home. Evaporative coolers are portable machines which come on wheels. Not only can you easily move them around your workshop, but you can also move them to other locations to provide cooling benefits you may need. If you regularly use your backyard patio, your workshop evaporative cooler can make entertaining guests on your patio much more comfortable and enjoyable.
When you use your evaporative cooler on the patio, you and your guests won't have to sweat profusely under the summer heat. You can sit around your table comfortably enjoying an afternoon BBQ and some refreshing beverages. Since evaporative coolers require outdoor air, they are the ideal cooling solution for your patio.
Keep Your Loved One's Workshop Cool with a Portacool
If your loved one can handle a little delayed gratification, look no further than Portacool to deliver the dramatic cooling that will help make summer building projects more enjoyable. Portacool home workshop evaporative coolers come in a variety of sizes, ensuring you can find the right model to address the specific needs of your loved one's workshop or backyard patio. These portable machines can also be easily stored in an out-of-the-way location during the winter months.
All Portacool evaporative coolers are made in the USA at our Center, Texas manufacturing facility using the most advanced technology available. In addition, our evaporative coolers all use media manufactured by our subsidiary company, Kuul. This ensures your evaporative media is made to the exact specifications of your evaporative cooler for optimal efficiency.
Don't wait until the sweltering summer heat to find a cooling solution for your loved one's workshop. If you put this purchase off till summer, you may find that the right evaporative cooler for your workshop is sold out. A cooling solution for home workshops will be top of mind for all DIYers at this time of year, and Portacools tend to sell fast once temperatures begin to rise.
Visit a local retailer or contact us directly to purchase the best holiday gift for a DIY enthusiast who has everything.