Prisons and correctional facilities are not built for comfort, for the inmates or the correctional officers. However, there is a recognition that these locations need some degree of cooling in order to maintain reasonable temperatures. For correctional officers, this is a matter of occupational safety, as they fall under OSHA regulations as well as applicable state codes. For inmates, courts are increasingly declaring that excessive heat may violate the Eighth Amendment.
The problem is that many facilities are simply not equipped to provide cooling for inmates or staff. Many of these buildings predate WWII, and some date back to the 19th century. For these facilities and many newer ones, Portacool offers a perfect tool to adequately cool the air for correctional officers and inmates. That's because Portacool can cool large quantities of air in situations where traditional air conditioning is either ineffective, inefficient, or impractical.
Changing Attitudes to Air Conditioning in Prison
In the past, many people objected to the concept of providing cool air in prisons because it was believed that this meant being "soft" on criminals. However, this attitude is changing for many reasons.
First, we are coming to understand that extreme heat conditions can be an indiscriminate death sentence that affects minor offenders as well as those guilty of serious crimes.
Second, people now look at correctional facilities as a business and a place of employment. In this context, it makes sense that correctional officers should benefit from the same workplace protections that apply to other workers. Their job is already dangerous. There is no reason why they should have to suffer additional risks unnecessarily.
Finally, several court decisions have concluded that excessive heat in prisons violates the prohibition against "cruel and unusual" punishments in the Eighth Amendment.
In response to these changing attitudes, dozens of states have implemented laws requiring prisons and correctional facilities to avoid excessive heat. In some cases, these laws only apply to new prisons. In other cases, they only apply to the areas where correctional officers work. But sometimes, they apply to all areas in both new and old prisons.
Correctional Officers at High Risk in High Heat
Although much has been said about aging inmates being a high-risk population, it's important to note that correctional officers are themselves at very high risk in extreme heat conditions.
Cardiac problems significantly increase the risk of complications from extreme heat. Unfortunately, correctional officers have a high risk of heart problems. In one study, nearly 40% of correctional officers had high blood pressure (hypertension). In addition, about 50% of correctional officers will die of heart problems within five years of retirement. In fact, they are 25 times more likely to die from heart problems than from the actions of an inmate. In response to this risk, it's important for corrections and prison systems to try to keep officers cool so they can avoid these risks.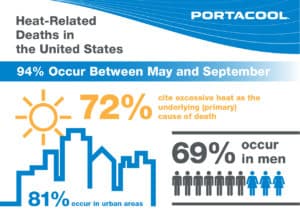 High Heat Makes It Hard for Officers to Work
Not only does high heat put correctional officers at risk, but it can also make it hard for them to fulfill their duties.
Correctional work requires high alertness and attention to detail. Unfortunately, these are two of the aspects that suffer when a person is in high heat conditions. Under high heat, people find their attention begins to wander, and they lose track of important details. This leads to mistakes. In fact, a NASA study found that people make as much as 12 times more mistakes at 95 degrees F than they do at 80 F. For correctional officers, those mistakes can be dangerous, even deadly.
Evaporative Coolers Are Better Than Air Conditioning for Prisons
With all these considerations, it's clearly important to bring cooling to many prison situations. You might immediately think that you want to get an air conditioner or a fan. However, an evaporative cooler, commonly referred to as a swamp cooler, is a much better option than these.
Fans are the simplest solution. But they're also the least effective. Fans just move hot air around. They only help improve the effectiveness of sweat in cooling, but sweat is still a relatively ineffective way for the body to lose heat—it normally accounts for only 25% of the heat lost from the body.
An air conditioner can provide coolness, but it works best in relatively small, enclosed spaces. Rarely do prisons have these conditions. In addition, installing an air conditioner in an already built prison is not only significantly expensive, but it's also a security risk.
Evaporative coolers, on the other hand, can produce a lot of cool air quickly. They work well in open-air situations where they are drawing directly from the hot outside air. Portable evaporative coolers also don't need to be installed: they can be wheeled wherever they are needed and require only an outlet to function properly. A water hookup is not necessary, but it can make the evaporative cooler operate all day without additional attention.
Evaporative coolers are especially effective for cooling:
Exercise yards
Workshops
Cafeterias
Depending on the size of the unit, they can typically make a difference in almost any space with good access to air.
Why Choose Portacool Evaporative Coolers
If you are looking for an evaporative cooler for your correctional facility, Portacool is the smart choice.
Since 1990, Portacool has been manufacturing our evaporative coolers in our Center, Texas manufacturing facility. In the last 30 years, we have grown to be one of the recognized leaders in the industry, and now we have distributors in all 50 states and 56 countries around the world. Our subsidiary, Kuul, produces the only evaporative media made in the USA, and it's made from 100% USA-sourced materials.
But it isn't just our products that are responsible for our amazing success. We have also grown because of our focus on providing exceptional customer service. This includes best-in-class:
Technical support
Live customer service
We also develop a custom service plan for you that reflects the demands of your business. That way, you can keep your Portacool evaporative cooler running for years.