Stop, Hazardous Time
Extracting, transporting, and refining the oil and gas that makes the world run can be hot work. From deserts to tropical jungles to offshore oil platforms, many of the places where people perform this work can be deadly hot for much of the year. In addition, workers at these sites are often asked to perform hard work for long periods of time, and they must wear protective clothing that can make it hard to stay cool. In addition, options for providing cooling in these situations are limited because of the risk that combustible gases may be present.
Fortunately, Portacool is prepared to help with this situation. Our evaporative coolers have the potential to provide large amounts of cool air at refineries, oil fields, oil rigs, chemical production plants, and fuel depots. To allow for their use in areas where combustible gases may be present, our special Hazardous Location coolers are certified for use in ETL hazardous locations Class 1, Division 2, Group C & D. In addition, our coolers are all made in the USA at our Center, Texas manufacturing facility. They use our Kuul Comfort Firepro™ evaporative media, the only flame-retardant evaporative media made in the USA.
Hot Temperatures Put Workers at Risk
Heat-related illnesses can occur whenever a person's body temperature rises above healthy normal levels. This becomes more likely when a person is working in hot conditions. Work always causes the body to generate heat, which it must lose somehow.
Unfortunately, the body's mechanisms for losing heat start to become less effective once the temperature reaches 75°F. By the time temperatures reach 95°F, only sweat remains effective. While it can help, sweat typically only removes about a quarter of the heat the body sheds under normal conditions. Even with modern materials, required flame retardant clothing reduces the effectiveness of sweat. So when working in hot conditions, a person's body heat will almost inevitably rise.
Once a worker's body temperature rises, the body immediately changes its priorities to try to avoid heat-related illnesses. Blood gets diverted from the brains and muscles to the skin to try to increase cooling. People get weaker and may lose cognitive ability as they get hot. The muscles can start breaking down – a condition called rhabdomyolysis. Rarely, this can be fatal, but even if it's not, over time, this makes workers weaker. If workers still can't cool down, they will experience heat cramps, heatstroke, or heart attacks.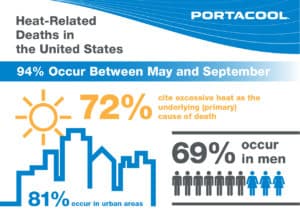 Hot Conditions Affect Profitability
While employees are concerned about heat-related illness, companies and worksite managers can worry about the impact of heat on their bottom line. Studies confirm that productivity starts to drop once temperatures exceed 80°F. One study quantified this productivity loss, saying that productivity could drop 30% by the time temperatures reach 100°F. That's when they're working. It doesn't account for the need for additional breaks.
Speaking of breaks, OSHA recommends that workers might need to take up to 45 minutes of breaks every hour, even for relatively light work at high temperatures. Labor is one of your biggest expenses, and these kinds of breaks can dramatically increase your costs. Check how much heat costs you using our productivity calculator.
Workers are also more likely to make more mistakes in hot conditions. One NASA study showed that people might make as much as 12 times more mistakes at 95°F than they make at 80°F. These mistakes can cost time, resources, and money. They may also put workers at risk.
Speaking of risk, lawyers have set up a cottage industry handling lawsuits from oil and gas workers affected by hot conditions. Since heat-related illness is a predictable hazard, it's important for employers to show they take this seriously and are taking precautions to avoid expensive settlements or court battles.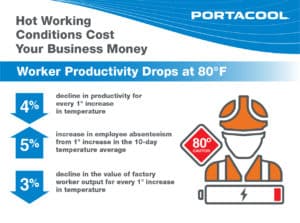 Evaporative Coolers Effectively Cool Your Worksite
It would be nice if you could turn down the thermostat outdoors to protect workers from heat-related illness. However, an evaporative cooler can be the next best thing.
Air conditioners don't work well outside. They are already inefficient, and when the cool air can't be concentrated, they can't achieve adequate results. Plus, an air conditioning unit becomes a significant heat source when the unit isn't insulated from the area it's cooling. Much of the energy used becomes waste heat, and that waste heat makes them less effective at cooling.
On the other hand, an evaporative cooler can produce a lot of cool air very efficiently. They draw in hot air and use its energy to evaporate water, cooling the air in the process. They can effectively cool as much air as they pull in, creating dramatic results in a single pass over the evaporative media. Operating at a fraction of the energy cost, they can create enough cool air on demand to create cool zones even outside or in large spaces where air conditioning is ineffective or impractical.
Why Choose Portacool
Portacool is the smart choice for cooling your hazardous materials work site. Since 1990, Portacool has been building evaporative coolers at our Center, Texas manufacturing facility. In that time, we've come to be regarded as one of the leaders in the industry. We now have distributors in all 50 states and in 56 countries around the world.
Portacool is proudly made in the USA to this day. Our subsidiary, Kuul, makes the only evaporative media made in the USA, and it's made wholly from materials sourced in the USA.
In addition to our industry-leading products, we are industry leaders in customer service. We offer best-in-class:
Technical Support
Live Customer Service
In addition, we match every client with a custom service plan. This plan is designed around the specific needs and demands of your industry. This helps ensure your Portacool evaporative cooler keeps functioning for years.
Cooling Units Designed for Hazardous Material Sites
At Portacool, we understand the specific demands for cooling technology in hazardous material sites. That's why we designed evaporative coolers with these demands in mind.
All our hazardous material units are certified for use in ETL hazardous locations, Class 1, Division 2, group C & D. They have electrical components sealed to be intrinsically safe. There is no assembly required, but they will need to be hardwired by an electrician. In addition, these coolers utilize Kuul Comfort Firepro™ evaporative media, which is flame retardant.