Excessive Temperatures Place U.S. Troops at Risk During Training
Many of the dangers associated with climate change have been well documented in recent years. However, one profound impact of climate change tends to get overlooked – rising temperatures are creating dangerous training conditions for many members of our military. In the past decade, there have been 17 heat-related fatalities during military training. During that time, there has also been a 60% rise in heat-related illnesses such as heat exhaustion and heatstroke.
With thousands of service members suffering from heat-related illness each year, this has become a serious problem for our military. Not only are hot conditions threatening the health and safety of our service members while training, but these conditions are also making it challenging to ensure our troops are adequately prepared for mission deployment.
The Number of Dangerous Heat Days Continues to Rise at a Rapid Pace
According to a report published in the journal Environmental Research Communications, just about every region of the country will experience a significant rise in extremely hot days by 2050. This will cause many military installations to have roughly five times as many days with a heat index above 100°F compared with the number occurring between 1971-2000. This equates to about an extra month of days each year with a heat index above 100°.
Typically, there have only been nine military installations that experience more than 30 days a year with a heat index over 100°. If the current pace of climate change continues, there will be 100 military installations facing this level of extreme heat by 2050. As a result, conditions that have already reached dangerous levels will become even more catastrophic for the health and safety of our troops.
In the last decade, heat-related illness has resulted in tens of thousands of lost duty days each year, costing our government approximately $1 billion. As temperatures continue to rise, the amount of outdoor training will become much more limited, making it increasingly challenging to ensure our service members develop the skills they need to complete their missions.
Military Is Taking Steps to Protect the Safety of Our Troops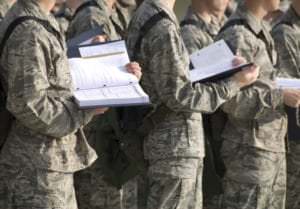 A 2019 Defense Health Agency report found that heat-related illnesses increased from 1,751 in 2014 to 2,792 in 2018. In order to address this serious issue, the military has been taking steps to reduce the threat of heat-related illness when troops are training. Some of the measures being implemented include:
Updating heat-related illness prevention measures
Refining treatment protocols
Developing specialized medical units to combat heat-related illness
In addition, the military now requires 50 minutes of rest per hour when strenuous work is being done under conditions where temperatures top 90°F. Unfortunately, 10 minutes of training per hour leaves precious little time for our troops to prepare for their missions.
Evaporative Coolers Can Improve Safety When Troops Train
The best-case scenario would be for us to start reversing the damage associated with climate change. Unfortunately, we've been unable to stem this dangerous trend as of yet. Therefore, it's crucial that the military takes other actions to provide a cool, safe training environment for our troops. Evaporative coolers provide an affordable, effective way to cool service members who are training on sweltering days.
Portacool has been the industry leader in evaporative cooling technology since 1990. Our Jetstream™ series provides a perfect solution to cool outdoor military installations on a hot day. Our portable Jetstream™ evaporative coolers come on wheels, making them easy to move around. With several different sizes, you can easily find an option that provides the right amount of cooling for your space.
All of our evaporative coolers are manufactured at our Center, Texas facility. In addition, our evaporative media is made by our subsidiary company, Kuul, ensuring it meets the exact performance requirements of our Portacool products. Kuul evaporative media is sourced from the finest quality materials and is the only media manufactured in the United States.
Keep Our Troops Cool on Hot Training Days
Please visit a local retailer or contact us directly to learn more about Portacool evaporative coolers.