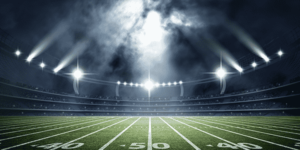 Football and the Heat
Staying Cool Under Friday Night Lights
September may inspire ideas of fall – Pumpkin Spice lattes, orange leaves, and, of course, football season. There's nothing quite like sitting in the stands, cheering on your favorite team under Friday night lights! But, in many places across the U.S., September doesn't always bring cooler weather. In fact, in some areas, temperatures can stay very high. For the supporters in the stands, this might mean just more sweat, but for the players, heat can create very dangerous circumstances. Coaches and team managers must remain vigilant to ensure their players are prepared and protected, on and off the field.
Teams put so much effort into ensuring their players are at peak performance levels. They promote a regimented practice schedule to ensure each players' specialty and general skills are top-notch and that they stay in physical shape. Many players, particularly at college levels or above, offer nutritional support. They also provide recovery techniques for players who have been injured and are anxious to get back on the field. It's crucial, then, not to let those efforts go to waste by ignoring the heat and its potentially life-threatening side effects.
Proactive Heat Protection
Coaches should take every step to protect athletes in the heat. To proactively prevent heat-related illnesses, there are several strategies that can protect players:
Provide opportunities for adequate hydration. Offer water and electrolyte-boosting sports drinks, and ensure players are hydrating before, during, and after physical exertion. Provide frequent breaks to allow players to rehydrate throughout practices and games.
Make sure players use proper clothing that allows for evaporation of sweat. If possible, provide light-colored, loose clothing for players during practices and games.
Offer shaded areas for players who need to take a break and get out of the heat.
Recognizing and Treating Heat-Related Illnesses
Coaches must also know how to recognize heat-related illnesses. To accomplish this, the NFL offers a simple, 3-step approach: Identify, Assess, Treat. First, remain aware of changes in player behavior, including disorientation, staggering and profuse sweating, to identify a potential heat-related illness.
If a player starts to show these symptoms, remove them from the game and begin assessment: take the player's temperature and monitor for additional indicators. Severe symptoms in the evaluation can include irritability, collapse, and altered consciousness, which may be indicative of heatstroke. If a player is exhibiting these symptoms, begin treatment immediately.
Do not transport the player. "Cool first, transport second," is the most effective approach, according to the NFL and its collaborating doctor, Dr. Douglas J. Casa, Ph.D. It is crucial to get the body's temperature to 102 degrees or lower within 30 minutes. This can be done with cool towels, hydration, and ice baths as appropriate. Only once the body has cooled should the player be transported for follow-up examinations and care.
Heat-Related Safety Equipment: Evaporative Coolers
One tool that teams can use for both preventative measures and active treatment of heat-related illnesses is a portable evaporative cooler, such as Portacool. Portacool's evaporative coolers use evaporative media technology to create cool air – even outside – without using too much energy. By creating a cooling zone with a Portacool cooler, coaches and team managers can provide an area for players to cool off throughout practices and games. With the proper use, these coolers can be an important piece of safety equipment that not only helps players recover from the effects of heat but also proactively prevent the worst side effects from happening in the first place.
For more information on Portacool evaporative cooler options to help football players stay cool in the heat, visit our product page.