Evaporative Coolers for Residential Patios
Outdoor patios can be a significant enhancement to your home, providing you with an ideal space to spend time with your family and friends. Whether you're enjoying a summer BBQ, entertaining family on a holiday, celebrating a special occasion, or just relaxing with friends on a summer weekend, your patio allows you to host just about any gathering you want.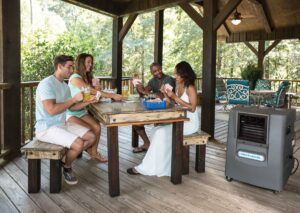 Unfortunately, the sweltering summer heat can often make patio time unbearable. When the heat spikes into the 90s, the only method your body can use to cool itself is sweat, and no one wants to sit around sweating on a hot patio. To avoid this problem, you may need to find a cooling solution to keep your patio comfortable during the peak heat of summer.
Air conditioners aren't viable solutions in an outdoor environment since they require an enclosed space to achieve their optimal cooling effects. Outdoor patio fans are equally ineffective, as they will just blow the hot air directly onto your guests. A home evaporative cooler, on the other hand, can effectively keep your patio comfortable on the hottest days of the year.
Residential evaporative coolers provide powerful cooling benefits. As discussed earlier, you can lower the air temperature by as much as 30°F. Because evaporative coolers only consume enough energy to power the fan in the machine, they are extremely energy efficient and cost-effective. Since no moisture is emitted from an evaporative cooler, your guests will stay dry and comfortable all day.
With a wide range of patio evaporative cooler models, you can be confident there is a Portacool that will be right for your specific needs. You can easily move the cooler around your outdoor space, ensuring your guests are comfortable regardless of the particular area in your yard that is being used to entertain.