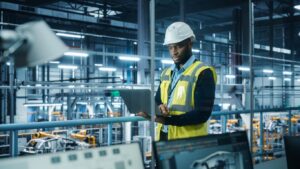 How Effective Are Evaporative Coolers for Industrial Spaces?
If you have an industrial space you're working in, you're starting to realize just how hot it is going to get. Whether you're using it for manufacturing, assembly, or even as affordable office space, you need an effective cooling solution for this industrial facility.
You might have looked at air conditioning and realized just how expensive AC is for industrial spaces. It is not practical to install, and it's too pricey both for installation and running. An alternative is an industrial evaporative cooler. This is both an effective and efficient cooling solution for industrial spaces.
Significant Cooling
First of all, it's important to get a cooling solution that will effectively cool the air. Evaporative coolers for industrial applications can deliver cool air to make your workplace comfortable.
An evaporative cooler can drop the air temperature by 30° F. That's enough to turn even a sweltering hot day into a comfortable working environment. While high humidity levels make evaporative cooling slightly less effective, evaporative coolers still work well in humid conditions.
Cool Large Volumes of Air
Perhaps the best thing about an industrial evaporative cooler is that it can quickly deliver large amounts of air. A large evaporative cooler like the Jetstream 270 can deliver a whopping 22,500 cubic feet of cooled air every minute. Even if your space is over 5000 square feet with 20-foot ceilings, it takes only minutes to cool at that rate of air delivery. Plus, you can keep it cool all day long.
Direct Cooling Where You Want It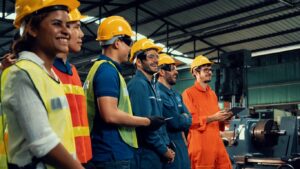 Another advantage of industrial evaporative coolers is that you don't necessarily need to cool the entire industrial space. A portable evaporative cooler like a Portacool rather than an installed cooling system like industrial AC lets you direct cooling only where you want it. If, for example, you have a row of machines where people get too hot, you can set up your Portacool to blow down the row and directly cool those workstations. The ease of moving a Portacool even lets you direct cooling at different parts of the facility if you have a cyclical process where you're active in other workstations at different times.
Cost-Effective Cooling
An industrial evaporative cooler is also a cost-effective cooling solution. With Portacool, there's no installation cost. You can set it up anywhere there's access to a standard 115 V, 20 A plug. Having access to a water supply (like a simple hose) makes it easy, but you can manually fill the reservoir if that works better for your industrial facility. The only exception is if you want cooling in a hazardous location. For use in ETL hazardous locations Class 1 Division 2, C& D, you need to hardwire the evaporative cooler.
In addition, a Portacool evaporative cooler is cost-effective to run. Using less than ¼ as much power as an AC unit, you can run a Portacool evaporative cooler for less than $1 a day. That is an easy investment to make in the health, happiness, and productivity of your workforce.
Won't Harm Industrial Equipment
Some people fear that the moisture from an industrial evaporative cooler will encourage corrosion on their equipment and/or product. However, an evaporative cooler is not a sprayer or mister: it doesn't put water droplets in the air, just evaporated water. This evaporated water isn't likely to condense on your equipment or product. It won't harm industrial equipment or lead to more corrosion.
You don't have to take our word for it, either. Just check out all the Portacool stories of industrial facilities that use our evaporative coolers, such as Washington Iron Works and All-Pro Fasteners.
Choose Portacool Industrial Evaporative Coolers
If you've decided that an industrial evaporative cooler is the right choice for your facility, you've made one wise choice. Now make another and choose Portacool.
Since 1990, Portacool has been manufacturing evaporative coolers in the USA. Our dedication to quality makes us one of the industry leaders, with distribution in all 50 states and in over 50 countries around the world. We don't just sell industrial evaporative coolers, either. We use them at our manufacturing, management, and plastics facilities. This makes us comfortable supporting our product with best-in-class warranties and customer service.
Want to see how Portacool evaporative coolers can help keep your industrial space cool? Please contact a local or online retailer. Or you can contact us directly for bulk orders.