It's Hard to Have Fun Outside When It's Hot
In theory, many outside activities seem like a great way to spend a day. Until you get outside, that is. You start to feel the heat of a typical summer day, and you suddenly realize you can't have fun out there.
That's because your body has a hard time keeping cool when it's hot. At any temperature over 75° F, your body starts to lose the ability to cool off effectively. By the time outdoor temperatures reach 95° F, you have only one way to keep cool: sweat. While sweating can be effective, it can't easily replace all the other cooling methods your body has lost. You either need to slow down or cool down. Otherwise, your body will shut down with heat exhaustion or heat stroke. If you want to give outside sports your all, you need a cool down solution.
Sweating is also hard on friends, family, and fans that come out to support outside sports. Athletes expect to sweat, but spectators don't want to be that hot. A cooling solution for supporters seems like a courtesy that will keep them attending games and cheering on the team.
Benefits of a Portable Evaporative Cooler
If you are looking for a portable outdoor air cooler for sports, an evaporative cooler is likely to be your best choice. With an outdoor portable evaporative cooler, you will be able to:
Effectively cool sites like the sideline, dugout, finish line, stands, or camp site
Enjoy outside sports more
Protect against heat exhaustion
Reduce risk of dehydration
Save energy and money
A portable evaporative cooler works great to cool the air at hot events. It can drop the temperature by 30° F – it can turn a 100° F day into 70° F air coming out of the cooler. It produces so much air that you can feel it all along the sideline. This makes it more enjoyable for everyone: athletes and fans alike.
A portable evaporative cooler can protect against heat exhaustion and dehydration. It helps athletes cool down after exertion and avoid dehydration. It even protects fans when they're at a venue consuming beer and soda.
Plus, evaporative coolers are very efficient. You can run a Portacool portable evaporative cooler all day for less than $1. That's about the cost – and about the energy – of a single sports fan running their car AC for half an hour to cool off.
Sideline Cooling Fans
Sideline cooling fans are one option for helping athletes stay cool at outside sports like football, soccer, lacrosse, and more. However, they have limited effectiveness. On any day where the heat climbs above 90° F, the only cooling method that is effective is sweating. Sideline cooling fans can make sweating more effective, but it's still limited, especially for big athletes who have a hard time lowering their core temperature. Plus, sweating comes at a cost: dehydration.
Athletes who are constantly sweating need to drink a lot of water to avoid dehydration. They also need to make sure they're replacing electrolytes or else they might develop complications like hyponatremia (salt shortage). The more time spent at high temperatures, the harder it gets to strike this balance.
That's why we've seen numerous sports programs adopt Portacool portable evaporative coolers, like the University of North Texas. UNT sees their portable evaporative coolers as a way to help their players recover, get a competitive edge, and stay safe. Portable evaporative coolers are a much more effective solution for cooling players down than a sideline cooling fan.
Finish Line Outdoor Air Coolers
Another great place to set up an outdoor evaporative cooler is at the finish line of a race. There are dozens of marathons and triathlons across the US from May to September where heat can be a potentially serious issue for athletes. Whether they are first-time participants or long-term competitors, these athletes often push themselves to their absolute limits. Having a cooling station can help them recover and avoid dangerous complications.
Fully Enjoy the Great Outdoors
When camping, you want to be able to enjoy the outdoors. Unfortunately, the heat can make that hard. Portacool portable evaporative coolers can take the edge off the heat. While they are a great addition to RV camping, they can be useful for car camping, too. They can help you take advantage of the hot seasons when many campgrounds are deserted. They can really help you enjoy getting away from everything and everyone.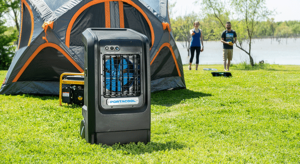 Why Choose Portacool Evaporative Coolers
When choosing an outdoor portable evaporative cooler, there are many good reasons to choose a Portacool.
Since starting business in 1990, Portacool has become a world-recognized leader in the portable evaporative cooler industry. We now have distributors in all 50 states and in 56 countries around the world. However, our evaporative coolers are still made in the USA at our Center, Texas manufacturing facility.
Portacool evaporative coolers are built to last, and we back up their durability with best in class:
Technical Support
Live Customer Service
Like our evaporative coolers, our customer service is also made in the USA. You won't be transferred to international call centers. Our customer care team is here to help you with any technical support or questions you may have.
If you want to buy a Portacool portable evaporative cooler for outdoor sports this summer, please visit a local retailer or contact us today to learn more about our portable outdoor air coolers.