The Portacool 'secret sauce' – cooling technology:
Speaking of that "brown stuff in the back," that is where evaporation occurs and is what makes our Portacool evaporative coolers so special. Sometimes referred to by a person unfamiliar with evaporative cooling systems as "brown pads" or the "filter," Kuul™ evaporative media is what sets Portacool evaporative coolers apart from all the competitors.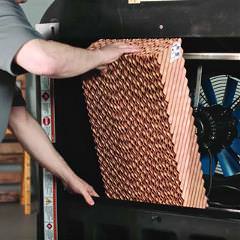 All Portacool portable evaporative coolers come equipped with Kuul Comfort™ evaporative media – from the residential Cyclone series to our industrial Jetstream series, Hurricane series and Hazardous Location coolers. We are the only evaporative cooler manufacturer that makes its own evaporative media. This defining difference means we can design it to our exact desired performance specifications. At Portacool, we have an entire team of engineers dedicated to making our Kuul evaporative media as efficient as possible.
Naturally cool:
Unlike air conditioners, portable evaporative cooling systems do not need chemicals, coils, or lots of electricity to cool warm air. They only require tap water and use a small electrical draw. As evaporative cooling technology continues to improve, evaporative coolers are becoming more and more useful across the world – even in humid climates, where just a few decades ago they would have been inefficient.
Portacool products have been manufactured proudly in Center, Texas, for almost 30 years. They are exclusively made in the USA with domestic and global parts. They can be configured to any plug or electrical configuration and come fully assembled, ready to use right out of the box.
See more details on how Portacool evaporative coolers work.