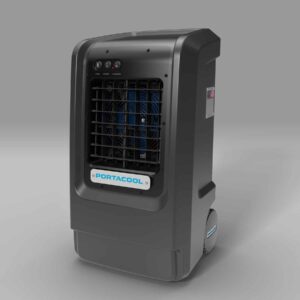 Welcome the Newest Portacool Portable Evaporative Cooler – the Portacool® 510!
As of today, April 1, 2021, there's a new Portacool portable evaporative cooler in town – the Portacool 510! Adding to the expansive lineup of evaporative coolers, the Portacool® 510 is a powerful, portable cooling solution designed to make open spaces more comfortably cool via the natural process of evaporation. This compact evaporative cooler offers ultimate versatility for on-the-go and spot cooling needs – from home and hobby usage to sports, outdoor living, and small workspaces.
The Portacool 510 is easily transported to outdoor locations and features sturdy, rubberized wheels to roll where cooling is needed most. Features such as oscillating louvers, a discrete manual fill door, and standard 115V plug (generator friendly) make this cooler a versatile cool-down option for diverse open spaces. It is the perfect portable evaporative cooler for use in an assortment of environments, including on the patio or in the garage, for keeping pets cool, or for use in sports, tailgating, camping, and RV activities.
"We are constantly working to ensure that our product offerings cover varied and adapting applications and customer needs," says Ben Wulf, CEO of Portacool, LLC. "The addition of the Portacool 510 demonstrates the robust cooling power we're known for, in the portable and compact size people need – further proving there really is a Portacool for everyone."
The Portacool 510 is equipped with Kuul Control MicroTech™ evaporative media – the highest quality evaporative media on the market, made in the USA exclusively for Portacool products. The Portacool 510 also comes with Portacool Protect™ – a lifetime warranty on evaporative cooler housing against manufacturing defects and a one-year warranty on all electrical components – to ensure that you get the cooling comfort you need.
The Portacool 510 joins an extensive lineup of Portacool evaporative coolers available in numerous sizes with specifications to meet a broad range of cooling needs. To find the right cooling solution for your needs, visit https://portacool.com/find-retailer/ for online and in-store purchase options.