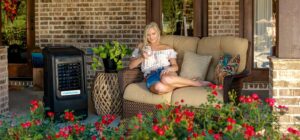 What Is Better – Swamp Coolers or AC?
It's spring, and across the country, temperatures are already spiking. It's time to start thinking about cooling solutions to make it easier to work, play, and just live when the air gets hot outside. The two leading solutions for your home, work, or outdoor areas are evaporative coolers (sometimes referred to as swamp coolers) and air conditioning (AC). But which is better?
The better choice depends on your situation. In some cases, swamp coolers are better. In other cases, AC is a better choice.
When Swamp Coolers Are Better
Swamp coolers work by using the natural process of evaporative cooling. It takes a lot of energy for water to evaporate, and when that energy comes from the air, the air cools as much as 30° F. Since this energy comes from the hot air, swamp coolers are highly energy efficient. The only energy the cooler uses is to run the fan.
Swamp coolers are better when:
There's access to hot air
You have a large space to cool
The air is dry
You can't or don't want to seal the space to cool
You want to conserve energy
You want to save money
Swamp coolers use hot air to cool. It sounds like a paradox, but it's true. That means you need to have access to hot air to make a swamp cooler work. Fortunately, in summer there's no shortage of that!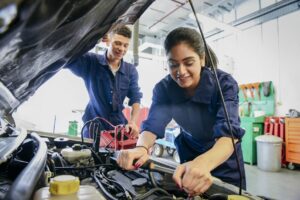 Swamp coolers are also great for cooling large spaces like garages, hangars, or industrial facilities. Large evaporative coolers like the Portacool Jetstream 270 can cool more than 22,000 cubic feet of air per minute. That's a volume of air 20 feet wide by 100 feet long by 11 feet high every minute. At that rate, it won't take long to cool even the largest spaces.
Swamp coolers work best when the air is dry. It's easier to evaporate water when the air is dry, so the cooling effect is better. Swamp coolers work when it's humid, but they work better when it's dry.
Because swamp coolers are constantly cooling new air, they don't depend on being able to re-cool already cooled air. This makes them perfect for cooling when you can't seal off the area to be cooled, such as when you're working outside. They also work well if you're trying to keep an area well-ventilated as well as cool.
Swamp coolers are extremely energy efficient. Remember, much of the power for cooling comes from the hot air. You're only running electricity to operate the fan circulating the cool air throughout your space. They use less than ¼ as much power as an air conditioner.
Saving energy means saving money. Highly efficient evaporative coolers like Portacool can provide cooling for an entire workday for less than $1 per day.
When AC Is Better
Sometimes, though, AC is a better choice for cooling. AC works by compressing a coolant to drop the temperature, using that coolant to cool the air, then letting the coolant expand and get hot, passing heat to the outside air. It's an energy-intensive process that exports a lot of heat to the outside air, but it's very effective.
You might choose AC when:
You have a small space to cool
The cooling space is well-sealed
You must dry the air
It's vital to reach a specific temperature
AC works best when it is cooling a small space. This lets it concentrate the cooled air. Also necessary for AC is that the space is well-sealed so the AC can cool the air in multiple passes.
AC has the side effect of removing moisture from the air. It is the best choice when you are trying to dry the air as well as cool it. Another benefit of AC is that after repeated passes of cooling, it can reach essentially any temperature you desire. This makes it the right choice for cooling spaces where you must achieve a very low temperature.
Choose Portacool for Evaporative Cooling Anywhere
If you are looking for a way to bring smart, efficient cooling anywhere you go, then choose Portacool. We've been making Portacool evaporative coolers in the USA for more than 30 years. Our commitment to quality and efficiency has made us one of the industry leaders. We sell coolers in every state and in more than 50 countries around the world. We are also committed to our quality with best-in-class warranties and customer service. When you buy a Portacool, you aren't just cooling today; you'll be cooling for many summers to come.
To see for yourself the difference that Portacool quality makes, please visit a local or online retailer. Have questions or want to make a bulk order, then contact us directly.