Military personnel, police officers, and firefighters all must train to be ready to serve under adverse conditions. But this doesn't mean they have to train under those conditions. Sometimes extreme heat is part of training, but other times it just interferes with training and keeps people from achieving their optimal readiness level. In particular, heat stress and heat stroke during training diminish our readiness. In addition, there are support positions and personnel who have trouble doing their jobs under high heat conditions.
Fortunately, there is a way to efficiently combat the heat and bring cool air when and where you need it. Portacool portable evaporative coolers can deliver cool air on demand. They're a great way to help recruits cool down after vigorous exercise, maintain good working conditions for support staff, and condition the air in old government buildings. Portacool units are all made in the USA at our Center, Texas manufacturing facility. We also use Kuul evaporative media, the only evaporative media made in the USA.
Heat Stress Is Dangerous and Unproductive
The body has many methods to cool down, but unfortunately, these diminish in effectiveness once the temperature reaches 75°F. In fact, by the time the temperature reaches 95°F, only sweat is effective at cooling the body. This means that the body can shed less than a quarter of the heat it sheds at lower temperatures, so the body's temperature will rise.
As the body's temperature rises, the body tries to increase cooling by diverting blood from the brain, muscles, and organs to the skin to aid with cooling. This makes it hard to think and hard to be strong under high heat conditions. People can develop heat cramps or heat exhaustion. The effects of heat aren't just short-term conditions. Extreme heat can lead to heatstroke and heart attacks. In addition, the body can start breaking down muscles in high heat conditions, so training too hard in high heat can be counterproductive.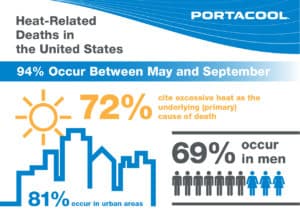 Train in the Heat, Recover in the Cool
There is some potential value to training in the heat. Soldiers, officers, and firefighters need to be ready to operate under these conditions. Appropriate training with proper monitoring of a person's condition can improve fitness.
However, there is no value to a person getting heatstroke because they can't cool down after training. Providing a cool recovery site can help avoid this unfortunate situation. Not only that, but it can make recovery periods shorter, which makes it easier to fit in more training in the course of a day while still avoiding heat-related illness.
For outdoor cooling, a Portacool evaporative cooler can help people cool down rapidly after training to help them avoid heat illness and get ready to train again or train harder. You don't need an enclosed area to benefit from evaporative cooling – you can enjoy dramatic cooling even in an open field.
Help Support Personnel Focus
While there are some personnel who need to work in the extreme heat, there are others for whom the heat is nothing but a distraction and an unnecessary obstacle. The people who perform maintenance on necessary equipment have vital jobs, and these jobs are made much harder in the heat.
NASA studied the impact of heat on the accuracy of workers. It showed that people made up to 12 times more mistakes at 95°F than they did at 80°F. This is a tremendously risky situation when we're talking about people maintaining vital equipment. In this case, errors can translate to unnecessary deaths.
This makes it crucial to maintain proper working conditions for all support personnel like mechanics. However, it can be hard to effectively cool big buildings like hangars and garages where these people must work.
These spaces can be hard to air condition. Not only are they large, open, and poorly insulated, but the doors open often and may stay open all day. However, a Portacool evaporative cooler can provide cool air directly where it's needed to keep workers cool.
Check out stories from fire departments who use Portacool to see how much of a difference these units can make.
Cool Buildings Too Expensive to Refit
Many government personnel must labor under conditions that are unnecessarily hot. The problem is that often government buildings are old, built before air conditioning was readily available. Governments keep using these buildings because there is no budget to build or lease new buildings. Nor is there money to install expensive air conditioning systems.
What is needed is an effective way to cool these buildings that can be done for a fraction of the cost of installing air conditioners.
Portacool can do this. There's no need to install air conditioning. Portacool evaporative coolers take in hot air and immediately put out cool air. Because they're efficient, government entities can afford to run them at a fraction of what it would cost to run an air conditioner.
Portacool Evaporative Coolers Beat Air Conditioning
Portacool evaporative coolers are the perfect solution to all these common situations faced by government and military personnel. They are much better than air conditioning or fans.
Fans only work by moving hot air. This can improve the effectiveness of sweat, but it doesn't give any additional cooling, so people often see their body temperature keep rising, even in front of a fan.
Air conditioning can effectively cool air, but it only cools it a little bit at a time. Air conditioners benefit from being able to take in already cooled air and cool it further. This means they're most effective when they operate in closed areas and can recirculate the cooled air. In addition, installing air conditioning can be extremely expensive.
Portacool evaporative coolers work better in these situations. They are easy to transport to wherever you need cooling. They operate on just water and a small amount of power. There's no need to install equipment – they can work effectively in many places where it would be prohibitively expensive to install air conditioning.
Why Choose Portacool
Portacool is the smart choice for military and government applications like these. Since 1990, Portacool has been manufacturing evaporative coolers, and we've become a leader in the industry. We now have distributors in all 50 states and in 56 countries around the world.
However, Portacool coolers are still made exclusively in the USA at our Center, Texas, manufacturing facility. We also use Kuul evaporative media. Not only is this the only evaporative media made in the USA, but it's also made 100% from materials sourced in the USA.
In addition to high-quality products, we have grown because of our dedication to customer service. We offer best-in-class:
Technical Support
Live customer service
We also help ensure your Portacool unit keeps functioning with a custom service plan designed for your application.