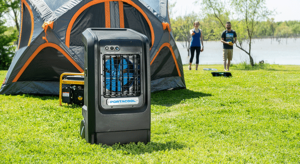 On the Road with the Portacool 510
A Cooling Solution Made to Go Where You Go
With summer and warmer weather upon us, there are more opportunities to travel with family and friends. According to Travel Pulse,  road trips remain one of the most popular vacations this summer, and people are craving outdoor adventures. Airbnb predicts that remote staycations will be at the top of everyone's list as they start planning extended weekend getaways. Americans are looking forward to spending time at family-friendly cabins, waterfront lake houses, and beachside retreats.
The new Portacool® 510 has unique features that make it well suited for families to take with them wherever they might need some relief from the heat. This cooler is the most recent addition to Portacool's lineup of portable evaporative coolers. It features powerful cooling and is designed to make open spaces more comfortable and enjoyable via the natural process of evaporation.
Whether your family is made up of seasoned camping veterans, or if it is your first time staying in a cabin, the entire group, from little ones to grandparents, will appreciate the respite from the high temps. The sturdy, rubberized wheels on the Portacool 510 travel well over most surfaces, including the rough terrain surrounding most cabins. While roasting s'mores, flip the switch on your new Portacool to make sure the only thing roasting is the marshmallow. This compact cooler is SUV friendly and can easily fit between other camping necessities to make the weekend one to remember.
A lake trip wouldn't be complete without spending a sunny afternoon or two playing yard games on the lawn. Playing games such as corn hole, Spikeball, volleyball, bocce ball, and frisbee are all the more fun because of the scenic location by the water but overheating can be an issue for many. Setting up a portable evaporative cooler as a break station or spot cooler can help you get back to the game and spend even more time soaking up the sun.
Is a weekend relaxing at the beach more of your forte? Dining alfresco hit a surge in popularity over the year and shows no signs of stopping. "Alfresco" loosely translates to "in fresh air," and one place you are guaranteed fresh air is the beach. Even with the coastal sun shining down, dinner guests can stay comfortably cool while sipping on a cold drink with a Portacool 510 nearby. The oscillating louvers guarantee that each person can enjoy the refreshing air from this compact cooler for an evening that lasts well after the sun goes down.
It is not too late to plan a camping, lake, or beach trip with friends and family this summer. Remember to add the Portacool 510 to your packing list or check out other cooling options to find the perfect fit for your next adventure.