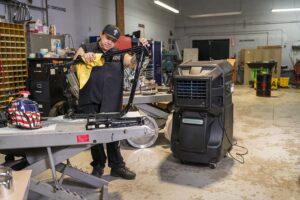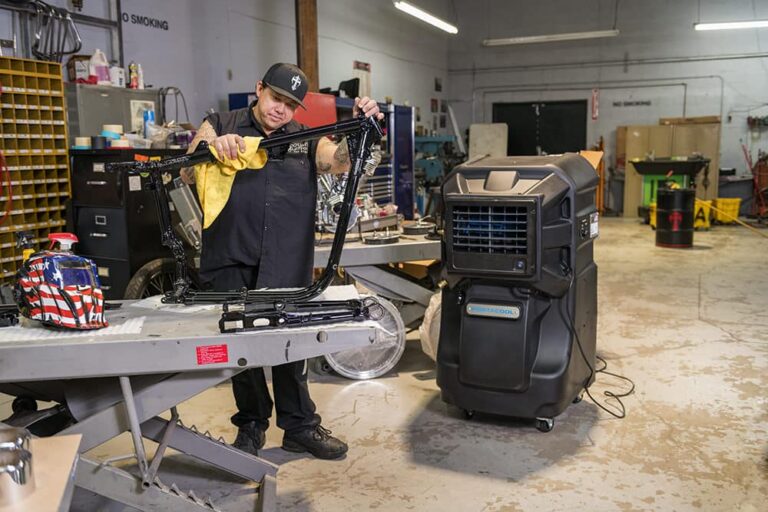 Custom Car Shops Turn to Portacool in the Summer
The creation of custom cars – from hot-rods to muscle cars to rat rods* – has captured a huge following of car-loving hobbyists and garage enthusiasts across the country for many years. So much so that dedicated television networks and programming of 30- to 60-minute shows highlighting the build process have gained immense popularity. Die-hard, loyal fans have emerged reiterating the nation's enthusiasm for the custom build craze.
Custom car shops are known for putting their unique style into their final prized designs. While their approaches may be different, one thing they have in common is the need to beat the heat in their shops when the mercury rises. Hours spent with shop doors open means air conditioning options are impractical. Any cool air they could keep in would quickly escape out considering the kinds of garage facilities in which they work. Additionally, these craftsman and mechanics are often working in tight spaces where having access to cool air is helpful for their productivity and overall focus.
Portacool is thrilled to be the official portable evaporative cooler of choice for several custom garages that are featured on TV. The teams that operate out of these shops depend on wheeling our coolers where they need them. Here's an overview of these well-known shops:
WelderUp – As seen on Discovery's "Vegas Rat Rods" and on his YouTube channel, Steve Darnell built an eccentric

crew of mechanics, fabricators and welders who create one-of-a-kind vehicles. Known for creating unique rat rods, Steve Darnell's WelderUp shop in Las Vegas, Nevada is not the average car customization shop. Steve has built a reputation around creating unexpected and imaginative masterpieces. The shop and Steve's work became famous after his show, Vegas Rat Rods, was picked up by Discovery Channel. In the day-to-day operations of the WelderUp shop, Steve's team works more than five months out of the year in sweltering Vegas temps that typically range from 90-115°F. Given that the shop doors stay open and the fabricating machines put off tons of heat, keeping the work area cool had been a challenge. "I'm in the shop 75% of my time," Steve says. "I want to be comfortable and as a shop owner I need it to be cool enough for my guys to be safe and productive. I would recommend Portacool to anyone with a garage or shop!"
Count's Kustoms – As seen on History Channel's "Counting Cars," Count's Kustoms is a one-of-a-kind hot rod and chopper customization/restoration shop located in the heart of Las Vegas and owned by Danny "Count" Koker. Danny's team puts great pride and care into creating every one of their custom vehicle projects to customer specs. His crew is diverse – from the outstanding airbrush artist "Horny Mike" and master conceptualizer and lead painter Ryan Evans, to Shannon Aikau, lead builder and bike shop manager. Shannon leads the fabrication process and full assembly takes place in his side of Count's shop, building upwards of 15 Counts Kustoms Pro-Street bikes a year. And, it is one HOT bike shop – literally as much as figuratively. "It can get up to 98-100°F inside the shop," says Shannon. "I can't work in that kind of heat." Shannon discovered portable evaporative coolers in the 90s and since then, he won't work in the shop without one running. In fact, Shannon says that having a Portacool evaporative cooler is an absolute necessity for him. And, over the years he has honed his perfect Portacool set-up to stay optimally cool. "Currently, I use two Portacool Jetstreams – a Jetstream 250 and 260 – in the bike shop to make sure I get cross-ventilation. I put the smaller one by the interior door of the shop and the bigger at the exterior door. I get the temperature to a comfortable 75-80° inside the shop," says Shannon. Mike and Ryan can also be seen using their Jetstream 230s in their side of the shop while painting.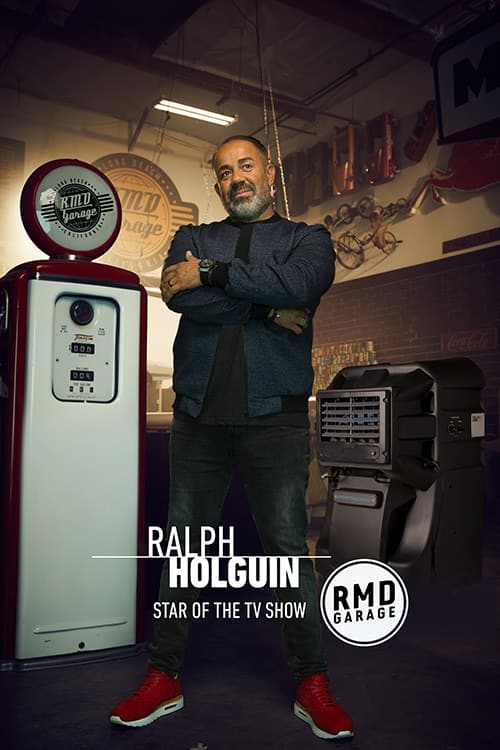 RMD Garage – Ralph Holguin and his team build automotive masterpieces featured on Discovery's Velocity Network on their self-titled biopic show. Their team has an affinity for American classic car design, customizing and modernizing with a full gamut of restoration and customization options to fulfill their customer's vision and dream builds. Their goal is to complete projects with a unique degree of detail and beautiful composition, all done from hot Southern California – Long Beach to be exact. Ralph's fabrication and paint guys lean on Portacool to keep their work area cool. The shop layout has a few tight spots which are perfect for their Portacool Jetstream 230s.
Meanwhile in Oklahoma, fan-favorites Farmtruck & AZN are the dynamic duo from Street Outlaws as seen on Discovery. The two race a '70 Chevy Long Bed Truck and they've built a strong fan base. The duo turned to Portacool to keep their famous firehouse and shop cool with a Portacool Jetstream 230 and 260. They recently announced that in late 2020/early 2021, fans will enjoy seeing the Farmtruck and AZN TV Show on Discovery Channel – as well as two brand new Portacool Jestream 270s!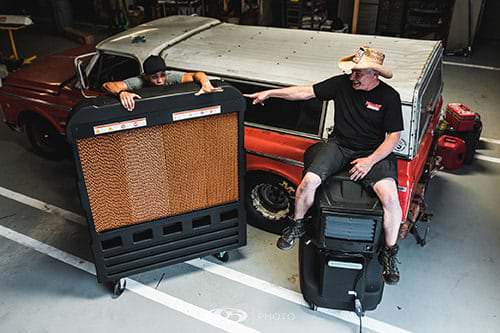 Each year, our team is thrilled to welcome the big personalities represented on these shows in our booth at the annual SEMA Show. While SEMA 2020 is cancelled, we look forward to seeing the guys and their loyal fans in 2021.
*Not familiar with a rat rod? It is a custom car with a deliberately worn-down, unfinished appearance, typically lacking paint, showing rust, and made from previously cast-off parts.