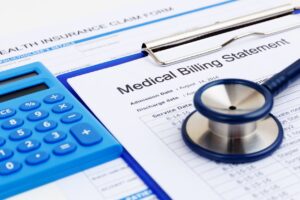 Hot Working Conditions Result in Significant Medical Costs for Businesses and Employees
As temperatures continue to rise each year, more and more workers are facing devastating health risks associated with heat-related injuries. Each year, approximately 2,000 workers in the United States suffer fatal injuries from hot working conditions. An additional 170,000 individuals suffer heat-related injuries on the job which result in long-term disabilities.
The devastating impact to the injured workers and their families is truly unquantifiable.  A permanent reduction in quality of life and the ability to earn a living or the loss of a loved one is truly tragic. However, these injuries are entirely avoidable if businesses take the steps necessary to provide a cool, safe working environment.
In addition to the emotional toll these injuries take on the victims, there are also greatly devastating financial consequences – for your business as well as the injured employee. It's important for businesses to understand these costs as they think through a heat illness prevention plan.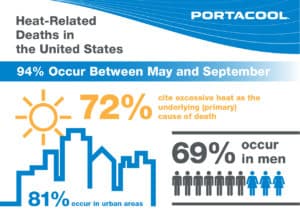 Costs to Your Business of Employee Heat-Related Injuries
Your business will incur a variety of costs associated with heat-related injuries to employees. These costs fall into two separate categories – direct and indirect costs.
Direct costs include the monetary expenses associated with compensation for the employee's injury:
Medical expenses
Workers' compensation payments
Legal expenses associated with the injury (in situations where the employee files a lawsuit for negligence)
In addition, you may incur a variety of indirect costs associated with tangential expenses from the injury. These may include:
Hiring and training replacement employees
Lost productivity
Implementation of corrective measures to avoid future heat-related injuries
Accident investigation
Costs associated with employee absenteeism
On average, businesses spend $53,589 per incident. If there is a judgment against your business in a lawsuit filed in association with the incident, these costs will rise drastically. If you provide workers' compensation benefits to your employees, your premiums are also likely to increase if there are numerous claims filed by workers suffering heat-related injuries.
National averages provide a good frame of reference, but it's always helpful to see more concrete estimates that are applicable to your specific business. As part of OSHA's $afety Pays Program, the agency has created an online tool to help you estimate the financial impact of a heat-related employee injury to your business. This tool factors your profit margin, the average costs of a heat-related injury and an indirect cost multiplier to predict the amount of sales you'd need to generate to cover the expenses associated with the injury. When entering information into the tool, select "Heat Prostration" from the "Injury Type" dropdown menu to see costs specifically associated with heat-related injuries.
Cost to Workers Are Even More Dire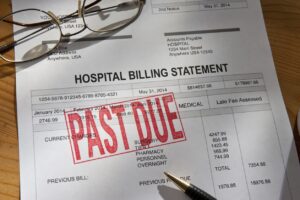 While the costs incurred by your business are significant when an employee suffers a heat-related injury on the job, the financial hardships placed on injured workers are even greater. This is especially true since heat-related workplace injuries disproportionally impact low-income workers.
According to a report from the nonprofit consumer advocacy organization Public Citizen:
Over 60% of US workers live paycheck to paycheck
78% of US workers earning less than $50,000/year live paycheck to paycheck
The lowest paid 20% of US workers suffer 5 times as many heat-related injuries at work as the highest paid 20%
Over 33% of low wage workers lack the savings to cover one month of living expenses if they lost their income, and 16% of these workers couldn't live for a week
This is the lens with which we must view the severity of the economic impact heat-related injuries have on your employees. With recovery times for these injuries ranging from several days for mild injuries to several months for more severe injuries, many workers are unable to pay their bills when they're forced to miss work for extended periods of time while they recover.
In situations where workers suffer a long-term disability that prevents them from performing their work tasks moving forward, the financial consequences are even more dire. These individuals are often forced to explore different career opportunities, and they often must incur costs associated with retraining for this career change.
Unfortunately, lost wages and career retraining costs only paint a partial picture of the financial impact on workers. The structure of our healthcare system requires most people to pay extremely high deductibles before treatments are fully covered. As a result, workers who suffer a heat-related injury face costly medical bills even when they have insurance. If they're uninsured, the costs are even more staggering.
In most instances, medical costs associated with heat-related injuries can be steep. A study examining the costs of treatment for heat-related injuries among Army personnel found that the average cost of inpatient care was $4,094 for heat exhaustion and $7,453 for heatstroke. Another study focused on Army Ranger trainees estimated the cost of outpatient care after heat exhaustion ranged from $3,024 to $4,327, and the cost of inpatient care after heatstroke ranged from $5,000 to $6,878.
Often, our workers' compensation system fails to adequately cover the cost of treatment after work-related heat injuries. In most states, independent contractors, day laborers and/or temporary employees aren't eligible to receive workers' compensation benefits. Farm owners don't have to provide workers' compensation benefits for their farmworkers in 16 states. Workers' compensation laws in Texas are perhaps the most restrictive in the country, as only government employers are required to provide these benefits.
These financial burdens can destroy the lives of many injured workers and their families. As a result, employers have a moral obligation to take the steps necessary to provide a cool working environment that minimizes the risks of heat-related injuries.
Evaporative Coolers Are Ideal for Keeping Work Environments Cool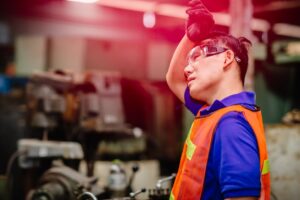 Often, air conditioning is simply too impractical or expensive to be a viable cooling solution at your work environment. In many instances, evaporative coolers will provide an extremely effective solution that is more environmentally sustainable and affordable than air conditioning.
Evaporative coolers harness the scientific process of evaporation to significantly drop the temperature of the air. Hot air is drawn over evaporative media, causing the water on the media to evaporate. This drops the air temperature by as much as 30°F. The evaporative cooler then distributes this cooled air throughout your work environment, ensuring your employees are able to work at safe temperatures.
It's important that you have access to an outside air source for evaporative coolers to work effectively.
Evaporative coolers provide a variety of benefits compared with air conditioning:
Lower Installation Costs – Air conditioning can often cost tens of thousands of dollars to install at large facilities. These installation costs are eliminated entirely with evaporative coolers. Just plug in the cooler and it's ready to use.
Lower Energy Bills – Air conditioning consumes up to seven times as much electricity as evaporative coolers. Because energy consumption is minimal, Portacool evaporative coolers cost just over $1 per day on average to operate.
Greater Environmental Sustainability – Evaporative coolers don't use any chemical refrigerants which may damage the environment. Instead, the cooling process is triggered by water. This, along with significantly reduced energy consumption, makes evaporative coolers the most environmentally sustainable cooling solution.
Location Specific Cooling – Move your portable evaporative cooler to the exact spot where your workers are stationed to provide cooling precisely where you need it most.
Prevent Heat-Related Injuries with a Portacool
Portacool has been the industry leader in evaporative cooling technology since 1990. With a wide range of product lines, we have the ability to provide the right cooling solution for your specific application. You can use our online tool to find the right Portacool for your specific work environment.
We manufacture all our evaporative coolers in the USA at our Center, Texas facility. You'll also benefit from industry leading evaporative media made by our subsidiary company, Kuul. All Kuul media is made in the USA using the highest quality materials. In addition, they're made to the exact specifications of our evaporative coolers for optimal performance.
Visit a local retailer or contact us directly for large bulk orders.