Outdoor Portable Air Conditioner Alternatives
Working outdoors in the summer heat can be dangerous, even deadly, for workers. For employers, that danger translates into extra costs in terms of insurance, potential legal costs, workers' compensation, lower productivity, and project delays. For many outdoor industries, the more red showing on the thermometer, the more red in your books. When the dog days of summer are here, everybody wishes they could just turn down the thermostat on the world.
Portacool gives you the next best thing: an outdoor evaporative cooler that can cool off your worksite, keeping your workers safe, healthy, and productive. Our evaporative coolers are more effective, energy-efficient, and cost-conscious than alternatives such as an outdoor air conditioner. Best of all, they're made in the USA. Our cooling media are the only ones made in the USA. We look forward to helping you find the perfect cooling solution for your outdoor worksite.
Risks of Working in Hot Conditions
The human body must balance its temperature to avoid heat-related illnesses. Unfortunately, the body can't do that well when the workplace is hot, and the work is demanding. The body starts losing its ability to shed heat at 75 degrees F. By the time the temperature reaches 95 degrees, only sweat can take heat away. When workers are in protective clothing, that means they can't get rid of the heat they generate when working. At this point, their body temperature starts to rise.
When a worker's body temperature rises, they are at risk for heat-related illness. The body tries to send more blood to the skin to shed heat, which reduces blood supply to muscles, organs, and the brain. People can get weak and irresponsible from the heat. They might feel heat cramps, exhaustion, heatstroke, or heart attacks. Even if workers can make it through the day, they can become less effective over time, as the body breaks down muscles while trying to combat the heat.
Hydration can help ward off these risks, but it's not enough. To keep workers safe, the worksite must either be kept cool, or workers have to be allowed frequent breaks to cool down. In fact, OSHA recommends resting up to 45 minutes out of each hour in extreme heat.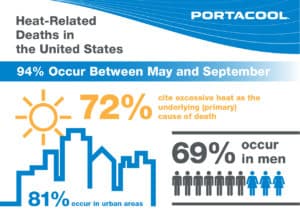 How Hot Conditions Affect Productivity and Profitability
The danger of heat illness is only part of the impact of heat on your workers. Multiple studies confirm that once the outdoor temperature exceeds 80 degrees F, productivity begins to decline. One showed that productivity dropped by 3% for every 1.8 degrees over 80 F. In other words, by the time temperatures reach 100 degrees, your employees' productivity has dropped 30%. That's when they're working – it doesn't account for additional breaks.
Plus, workers tend to make more mistakes in the heat. A NASA study showed workers make about twice as many errors at 90 degrees F than they do at 80 degrees F, and up to 12 times more mistakes at 95 degrees F. These mistakes can mean work that has to be redone, materials and time are wasted, or dangerous, sometimes fatal, accidents can happen.
Combined with increased time for breaks, these effects can dramatically impact your profitability. See how much with our productivity loss calculator.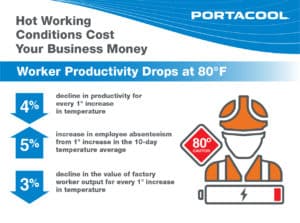 Evaporative Coolers Are the Best Portable Outdoor Cooling System
How do you keep workers cool outdoors? An outdoor portable evaporative cooler might be the solution. In general, there are two popular options for creating cool air: air conditioners and evaporative coolers. An air conditioner, in the strict sense, uses compressors and refrigerants to create cool air. Evaporative coolers pass hot air over water, which cools the air through evaporation.
In a closed indoor environment, air conditioners have the advantage. They can make the air as cool as desired at a precise temperature.
However, in an outdoor environment, an evaporative cooler is a superior solution compared with outdoor air conditioners. An evaporative cooler uses the heat of the outside air to evaporate water, creating a dramatic cooling effect at a fraction of the energy cost. The air coming out of an evaporative cooler is not only cooler, but also denser and more effective at cooling than the ambient air. Plus, less energy used means less wasted heat and more energy dollars saved.
Many Workplaces Can Benefit from Outdoor Evaporative Coolers
An outdoor evaporative cooler can make a difference for workers in almost any industry where they work outside. This can include:
Roofers
Construction workers
Outdoor oil and gas workers
Road and highway workers
Baggage handlers
Electrical workers
Landscapers and yard workers
Essentially, anyone who works outside can benefit from an outdoor evaporative cooler. Workers don't have to be in an enclosed space. Even a slight enclosure can increase the effectiveness of cooling, but access to outdoor air helps make evaporative coolers more effective. In addition, a cooler does not have to blow directly on workers to make a difference. With some Portacool units, cool air can be felt up to 300 feet away.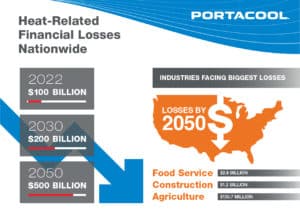 Why Portacool Is the Best Choice for Your Worksite
If you are considering an outdoor portable evaporative cooler, Portacool is the smart choice for your worksite.
Portacool has been manufacturing evaporative coolers in the USA since 1990. We have continued to expand our product line and are now recognized as the industry leader with distributors in all 50 states and 56 countries around the world. Our inventory is ready to ship faster than anyone in the industry.
Our evaporative coolers are proudly made in the USA at our Center, Texas manufacturing facility. In addition, our subsidiary company, Kuul, makes our evaporative media. It is the only evaporative media made in the USA, and it's made with 100% USA sourced materials.
We are dedicated to customer service. For 30 years, we have achieved high levels of customer satisfaction by offering best-in-class:
Warranties
Technical Support
Live customer service
We know your workplace is unique, and we design a tailored, direct service for your product to make sure it keeps providing relief for your workers and your bottom line for years to come.